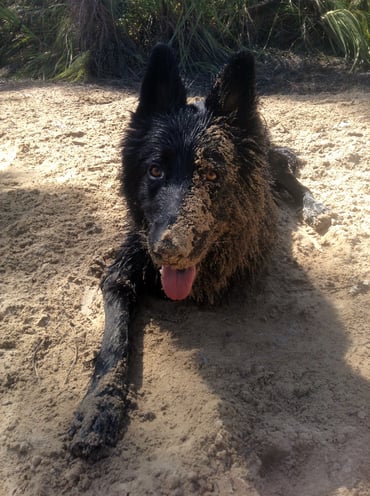 Loki

Loki was born on the 31st of July 2017 in Brisbane & he is a pure breed German Shepherd, he is my best friend & also my right hand with all the dogs at Doggyland. All the dogs absolutely adore him and he is the centre of attention everywhere he goes and he loves it
The Doggyland Story

I have been around animals all my life but dogs have always been of a special interest to me, I am passionate about them and how to give them the best life possible with their human family. Here is how Doggyland started
In 2008 I travelled to Thailand to volunteer in a gibbon rescue centre for 6 months, I loved it and loved learning and interacting with gibbons. I then volunteered at the ENP (Elephant Nature Park) in Chang Mai followed by more volunteering at the WFFT (Wildlife Friend For Thailand).
In 2010 I volunteered in Indonesia at the Tasikoki wildlife rescue centre looking after wild animals such as orangutans, leopard, crocodile, monkeys, tropical birds, bears and much more.
In 2011 I was offered a job as assistant manager into a dog shelter on Koh Lanta for 8 month where I was in charge of the 30+ dogs and I was also training volunteers to work safely around the dogs. I enjoyed the challenge and this job is what started my career with dogs. This is where I learnt dealing with dogs is not just about being the pack leader but also about trust and respect of each other.
In February 2012 I moved to Scotland where Doggyland social school was born
Qualifications
09/2001 to 06/2005 - BSC with Honor in Zoology from Aberdeen University, UK
02/2012 to 11/2015 - Diploma with merit in Canine behavior and psychology, UK

03/2016 - Certificate of dog training : how to become a professional dog trainer

03/2016 - Certificate of dog training : how to work with aggressive dogs

04/2016 - Certificate of dog training : Growl class workshop on reactive dogs

05/2016 - Certificate of dog training : reliability & games training workshop

05/2016 - Certificate of dog training : how to train your dog to walk on a treadmill

05/2016 - Certificate of dog training : How to introduce your dog to a new baby​

07/2016 - Certificate of dog training : Simple solution to common dog problems

07/2016 - Certificate of dog training : Dr. Ian Dunbar SIRIUS dog trainer academy

07/2016 - Canine first Aid Course

12/2016 - Treatment & Prevention of dog aggression : Biting & Fighting