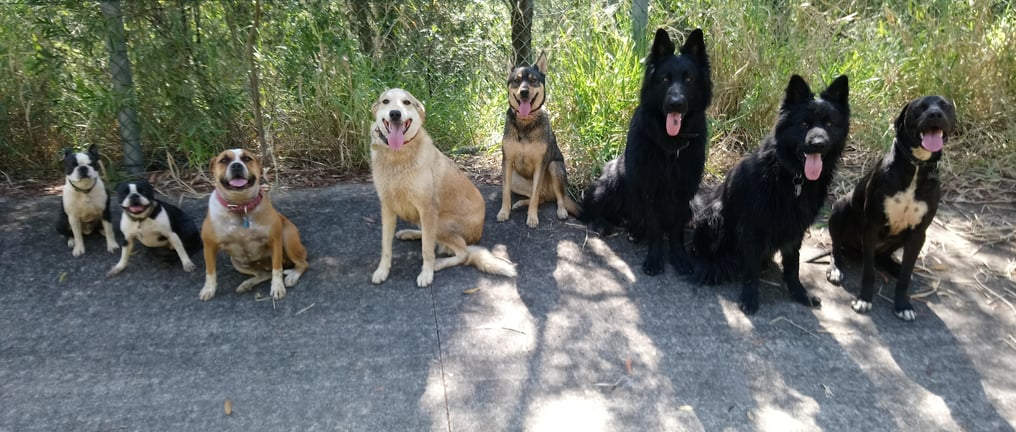 Our program is simple, by joining our Social School at least once a week on the day allocated to you according to you (every group is different and every dog will be added to a group suited to their own needs) dogs start learning some very important skills that will stay with them for life.
Dogs are pack animals and need the company of other dogs in order to observe & copy the right behaviours and learn about hierarchy, respect, rules & boundaries in the pack. This is what will teach your dog to be better behaved and more respectful in your family. Dogs learn thru play so the more they play the more they learn & the better behaved they will be!
Skills dogs will learn while in the program to prepare them for real life:
Sit quietly in the car waiting to arrive – no more whining, barking, jumping, etc...
Walk on the lead with other dogs around them without launching or barking at them

Be more social with other dogs

Play with multiple dogs at the same time without panicking and becoming a target - This is one of the main issue in dog parks

Being careful when saying hello to a new dog – not all dogs are friendly & want to be approached

Be respectful to other dogs and learn how to behave around dominant dogs

Be respectful and not bark at other dogs – behaviour that could trigger an aggressive response in stranger dogs

Be respectful of dogs of all size - just like in real life at the beach

Back off when other dogs growl or snarl

Not steal a toy or ball from a stranger dog

Share a ball to play fetch at the dog park

Have very good reflexes and move quickly to avoid a bite from an aggressive dog / snake
Our Dog school is suitable for :
Puppies & adolescent dogs (4 to 18 months) who are shy & fearful towards other dogs

Puppies & adolescent dogs (4 to 18 months) who get over-excited at the sight of other dogs

Older dogs might also qualify, but please get in touch as older dogs have different needs than young dogs and not all breeds can start at an older age.
Our aim at Doggyland is to build a friendly & respectful dog without behaviour issues.
Dogs are pack animals that need to learn about pack hierarchy, rules and boundaries to be balanced and well behaved. This is what they will experience with me and my pack and this is what will change their behaviour and transform them into well adjusted dogs.
*** Due to the popularity of the program we only provide service within the following postcodes: 4551 & 4575 ***
Please Read :
Our K-9 school is NOT for dogs who have aggression issues or are reactive to other dogs

Our K-9 school is NOT a puppy school - please ask your vet for puppy school

Our K-9 school is NOT an obedience school and we don't offer classes for the owner to attend
*** Note to shift workers - The program is NOT flexible on days, if you are looking at a flexible option please contact a dog daycare centre ***
The Social school does not offer classes for owners to attend, it is run in the form of fun outing in our secret location on the Sunshine coast with the Dog adventures dogs who are the teachers. The school run every morning Monday to Friday, all dogs are being picked up from home, taken out for some teaching & fun times for 2 hours then dropped back home tired and happy. The price for the outing is $ 45, for the full price list please check the price section.
Please go to our testimonies section to read about some of our happiest clients and how Doggyland has helped them (More reviews are also available on Facebook & Google!)
Puppies are welcome from 4 months old depending on the breed, please get in touch to speak about your puppy requirements.